Ancient Rituals Tattoo is a custom tattoo and piercing studio in Killarney, Co. Kerry, Ireland.
Our artists enjoy japanese, ornamental, polynesian, and fine line tattoos, but are open to all tattoo styles and ideas, creating original designs to suit each individual.
Our studio abides by a strict code of hygiene and cleanliness and aims to provide a friendly, positive, comfortable environment for all customers and artists. The studio has its own private body piercing room, offering high quality jewelry and a professional service.
Our artists are always happy to offer guidance and advice for your next(or first)tattoo.
If you are planning a trip to killarney and want to get a tattoo while here, call our studio in advance of your trip to make an appointment with the artist of your choice.
Andres, Emma are great artists with a lot of experience and they all have their specialities. Find out more about them and take a look on their galleries of creations they already did.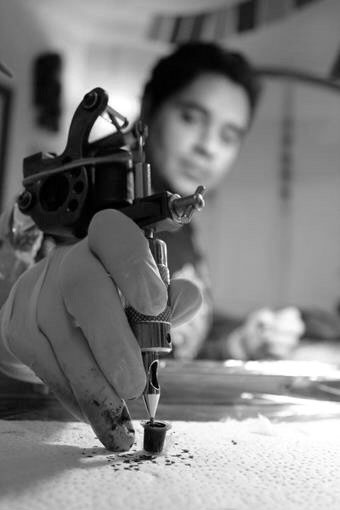 Andres Gomez
Tattooist and Body Piercer
Sacred Geometry, Japanese, Orientals Motifs, Patterns and Dotwork.
Emma Brosnan
Tattooist
An illustrative tattoo style, with a passion for anything figurative or nature related.
Be More Creative
We love to create custom designs. Talk to us, let us know what type of tattoo would you like and we can create something unique to suit your style and personality.
We believe in what we do, but don't take our words for it. Here is from our happy clients. They are the best proof of our work.
Wonderful experience. Andres did my tattoo and worked with me know I only had a few days. He was very courteous in helping me perfect my design and got it down to the very last detail! I highly recommend this place, and ask for Andres Gomez!!
Had a tattoo done today with my daughter it's was a Celtic "father and daughter "symbol. Emma did a super job, so friendly. Highly recommended.
It was a really good experience. Den has done tattoos for me and my girlfriend. He was really professional. I would recommend him to anyone getting theirs done, would definitely be going back to him.